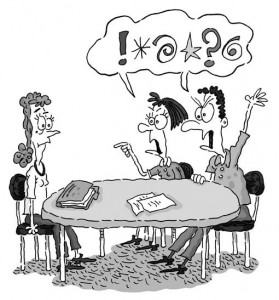 When Parents and Educators are on Opposite Sides:
As an educator I have been privy to some pretty dramatic conflicts between parents and teachers. There are times when the two cannot seem to communicate. One of the more remarkable episodes I witnessed follows:
When parents get it wrong:
Fifth grade students at this particular school switched from their homeroom for math and science. The students knew they were to bring their own pencil and book to class. This was part of the teacher's goal in teaching responsibility. One girl constantly forgot her pencil. The teacher gave her several warnings to bring her own pencil to class before sending a note home to the parents.
Upon receiving the note, the mother followed her child into class the next morning, bringing with her a box of two hundred pencils. She slammed the box down on the teacher's desk and stated, "Since you can't afford to give my daughter a pencil, here is her supply for the rest of the year!"
As you can imagine, this conflict was only the beginning of a difficult relationship. Even worse, the child was sent this message by her mother, "I'm on your side, the teacher is wrong and you don't have to be responsible."
Why it Matters:
This problem in communication did more than drive a wedge between the teacher and parent. Due to the mother's defensiveness, a teachable moment for the child was lost.
Rather than learning responsibility the child learned she does not have to follow the same rules as her peers, the concept of personal accountability was not important to her mother. The mother has left the child with the impression the teacher is not a valid authority figure, so mother trumps teacher.
She also has sent her child the message that anger and sarcasm are part of effective communication and last but not least she is teaching her child to disrespect authority and this will probably come back to bite her later in life.
Cooperation between parents and educators is necessary to model appropriate communication techniques. This is the best atmosphere for children to learn and will have the greatest and most immediate outcome.
When teachers get it wrong:
As a gifted specialist, I was often asked to sit in on conferences between the parent of the gifted child and the regular classroom teacher. I once heard a teacher state to a parent, "You know our day goes much better when your child is absent…"
Knowing this child, I knew it was a true statement; however, this kind of attitude from the teacher put the parent in a defensive state immediately.
Why it matters:
Although most teachers are parents, they are also human and they sometimes err in diplomacy. Teachers who use diplomacy are more likely to find a parent who will be a partner in working to help the child. The teacher who creates conflict with the parent will create a long lasting adversarial relationship because when provoked, mother lions are prone to defending their cubs.
A negative comment about the child feels to many parents as if the teacher is saying the comment not only about the child, but about the parent as well. Almost any strong negative comment by a teacher will be heard by a parents as, "Your child is not good enough; therefore, you are not good enough".
In this instance the teacher is venting her own frustrations to the parent, rather than keeping the discussion professional. The teacher should describe the problem, as exhibited by the child. This should be done in terms that convey to the parent that they are on the same team to help the student. Although it may not seem like it to the parent, most teachers want what is best for their students, even though they may have left their diplomatic voice at home.
Parents are not mind-readers and must be convinced the teacher has their child's best interest at heart before they are open to hear a list of teacher comments, preferably presented with tact.
What teachers can do:
Take the stance that neither you nor the child will benefit if you have an adversarial relationship with the parent. Imagine four components to the situation: the child, the parents, you, and the problem. Then imagine that you draw that famous "line in the sand" we have heard so much about.
Next, mentally move the problem to one side of the line and take your student and parents to the other side of the line with you. At this point the teams stack up like this: it is you, your student and the parents who are teamed up against the problem. Explain to all involved how you are working together as a team to solve the problem and it will take efforts from each person to be successful.
Having the parent and child on your team makes the likelihood of success more probable, it takes some of the pressure of you and it lets both the parents and child know they have responsibility and must contribute to have a successful outcome.
This is a powerful model that helps you to keep the focus on leading your team and fostering cooperation to help reduce or eliminate conflicts. Lose your focus, patience or professionalism and you dissolve the team and are on your own.
What parents can do:
If you feel there is a personality conflict that is harmful to your child, you may need to talk to the principal about moving your child to a different class. Otherwise, give the teacher the benefit of the doubt. Assume they have your child's best interest at heart and are on your team. Usually you will be correct.
Put defensiveness aside and ask yourself one very important question, "Have I seen this behavior myself, or have I heard my child described this way before?" There is a saying I tell parents, "If one person calls your child a horse, laugh. If two people call your child a horse, take a closer look and if three people call your child a horse, it's time to saddle up."
Once you identify and acknowledge the issue with your child, you are in a more powerful position to deal with it effectively, along with your new partner–the teacher.
Unfortunately, there are those people who enjoy a good fight and there are those people who are wound so tight they tend to communicate more strongly than is productive. If you find yourself in either situation, it may help you to take a copy of this article to your next parent-teacher meeting.
There may be a time as a parent or as a teacher, where regardless of the other person's behavior; you have to take the high-road for the sake of the child. It is not always about winning, but rather doing the right thing.
See Also: Gifted Psychology and  Support and Free Resources for Parents of Gifted and Creative Children
Parent teacher communication issues