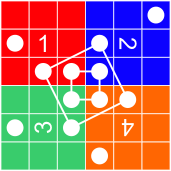 Games and Description of Free Brain Games:
Free Brain Games from Arkadium: (the creator of the solitaire games that come pre-installed with Microsoft Windows) Bridge, mahjongg, sudoku, card games, puzzles, chess and more. These games are of excellent quality.
Sharp Brains: An award winning top 50 collection. This site is more intellectual in nature, it's better for adult-child discussion or for use with older kids and adults.
Puzzles: They say they are the best resource for puzzling on the internet. Can be played online or downloaded in a paper version. Can choose by difficulty level and type, such as interactive. This is great site brought to you by Think Fun the company who produces the Rush Hour logic game.
Brain Food: Made to be read, lateral thinking puzzles. Choose between "realistic" and "tricky".
Mensa for Kids: The high IQ society has put together a fun site of puzzles and games designed just for kids.
Math Playground: Great logic games, word problems, and can generate worksheets
Cool Math: They say they are the world's most popular educational game site.
Fun Brain: They say they are the internet's #1 educational site. Offers reading and math games.
NASA Kids Club: Choose skill level. Space and memory games. Good graphics.
PBS Games: Scroll down the page and choose by educational topic. Good Graphics.
BrainBashers: Tons of brain games. Many Japanese puzzles too.
Grin Riddles:  Choose from riddles for kids, hard riddles, funny riddles, and more.
*Controlling the sites your kids go to for games is important. Some game sites appear "fun" and "cute" but will actually load malware onto your computer. These free brain games have been kid tested and teacher approved, although we cannot be responsible for external links off these sites.