The Best Gifted Resources and Curriculum We've Found: Mostly Free!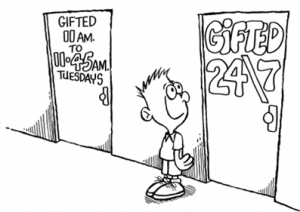 Minimus: "The Mouse That Made Latin Cool!" Click on "Teachers' Resources" for lesson ideas and curriculum for gifted students.
Teaching Philosophy to Children with Books
The Marshmallow Challenge:  Fun creative team building exercise for students.
Myths and Legends:  This is a really cool site where kids can create myths and legends, cartoon style. Good graphics and easy to use. Click on "start story creator 2"
TED: Riveting talks by remarkable people, free to the world: From the podcast publisher: "Each year, TED hosts 80 of the world's most fascinating people: Trusted voices and convention-breaking mavericks, icons and geniuses.  Each week, we'll release a new talk to inspire, intrigue and stir the imagination. For best effect, plan to listen to at least three, start to finish. (They have a cumulative effect.) If you have a curious soul and an open mind, we think you'll be hooked."
And " If you're a teacher, consider incorporating TEDTalks into your courses. Distributed under a Creative Commons license, TEDTalks are freely available for use in the classroom — just credit the source and don't distort the speakers' intended meaning."
National Council of Teachers of Mathematics (NCTM): Excellent resource for teaching math.
Alcumus Art of Problem Solving:  Alcumus offers students a customized learning experience, adjusting to student performance to deliver appropriate problems and lessons. Alcumus is specifically designed to provide gifted students with a challenging curriculum appropriate to their abilities.
NASA:  Science and math lesson plans.
Math with the Rubik's Cube: "Teaching Math With a Twist"
Check out the Boxed Solution Kit available only in the USA and Canada to educators and youth organization leaders.
Brilliant-Free Test Prep: Free problem solving and test prep. Problems are created by people all over the world, including olympiad champions and university professors.
Science Simulations:  from the University of Colorado at Boulder. Can choose by grade level–elementary to university.
The Kennedy Center: ARTSEDGE:  The National Arts and Education Network: Supports the placement of the arts at the center of the curriculum and advocates creative use of technology to enhance the K-12 educational experience.
Smithsonian Education:  Lesson plans on various subjects including the arts.
The Museum of Modern Art, NYC:  Free online activities.
National Endowment for the Humanities:  Lesson plans for all subjects.
The Stock Market Game:  Students invest a hypothetical $100,000 in an on-line portfolio. Most of my gifted students really enjoyed this game and learned a lot.
The New York Times: The Learning Network, teaching and learning with the New York Times, online free lesson plans for grades 3-12.
C-SPAN in the Classroom: Free resources for primary social studies teachers.
Awesome Library: State that they "Provide resources that have been reviewed and found to be of high quality for our users." Can be a bit difficult to navigate through.
National Geographic, Xpeditions:  The lesson plans and curriculum on this site were written by educators and have been tested in the classroom.
San Diego State University's WebQuest:  A WebQuest is an inquiry-oriented activity in which most or all of the information used by learners is drawn from the Web. WebQuests focus on using information rather than looking for it, and use higher levels of thinking such as: analysis, synthesis and evaluation. 
Discovery School:  Very comprehensive and easy to navigate. While the site does not state Gifted Curriculum per-say, you can choose by grade and subject matter and create challenging lessons.
Our two favorite companies for ordering resources and units of study:
Interact Simulations:  Great simulation units for gifted curriculum: My colleagues and I liked many of these units, we used approximately one unit a year as a gifted unit of study.
Prufrock Press:  Fav resources for gifted materials (workbooks, journals, activities): As a teacher I ordered many materials from this site. Order from here and use the promo code MINDS to receive free shipping!
OK, so these next programs aren't free, but still worth checking out:
LEGO Robotics Program: Teaches robotics and programming, labs, and simple machines…PC/MAC compatible, and hands-on.
Zoom Tool:  Can be used for all grades, through the university level to help teach algebra, scale, number sense, symmetry, proportion, geometry, DNA structure, trigonometry, and more.
Some lesson plans are available free as a download from this website or purchasable in printed form.
Activities Integrating Mathematics and Science (AIMS):
A non-profit organization dedicated to helping you give students a solid conceptual understanding of math and science, built on research in best practices and brain-based learning. They sell fun and educational units of study.
Odyssey of The Mind:  Teaches creative problem solving methods. Students can participate in tournaments.
Gifted Curriculum and Gifted Resources, curriculum for gifted, gifted program curriculum