The kids in your life will no doubt provide you with an extensive list of their wants this holiday season. However, we also like our kids to have games and toys which promote thinking skills and higher level learning—while keeping them entertained for more than a few mere minutes. Below is a list of some of our favorite thinking games for kids. As adults we enjoyed playing many of these games too!


Riddle Cube the Game
:  Ages: 8-12. One to four players. From Amazon: "Can you make a spaceship or reading glasses in 60 seconds?  Stretch your imagination as you race your way through this rapid, shape-shifting game of 200 mind-bending picture and word puzzles. Everyone races to beat the clock by folding, twisting, and stretching their cubes into shapes that match the challenge card pulled for the round. Match the challenge card first and collect the card– the first player to collect five challenge cards is the winner"!


IQ Twist
:  Ages 6 and up. One player. Award winning. Try to fit all the twisted playing pieces on the game board. We love this multi-level logic game,  there are 100 challenges. Puzzles range from simple challenges for beginners to complex challenges that will test advanced players, IQ Twist is a fun way to develop logical thinking skills and spatial reasoning abilities. Also great as a compact travel game. 

Stomple: Ages 8 and up. Two to six players. This is a new and addictive game of strategy. Kids love "stomping" the marbles and we love that kids use critical thinking skills while playing. Stomple is easy to learn but challenging enough for adults to thoroughly enjoy. From the manufacturer: "Outwit your opponents by stomping their marbles before they stomp yours. Outmaneuver by leaving their stomper trapped with no escape. Out stomp the competition and you win. The more you play, the more you learn the strategy behind the stomping." Amazon link: http://amzn.to/PnctWL

Othello: Ages 7 and up. Two players. Othello's motto is a "minute to learn, a lifetime to master". Their statement is true, this is a great game for kids to teach to other kids. We also found our students came up with quick and interesting strategies. Play is simple but can be as complicated as the strategies developed by the players. Players are represented by either black or white discs on the board. On each turn, players flank the discs of the opposing player between two of their own. Once captured, the double-sided discs are flipped over and become the opposite color. Amazon link: http://amzn.to/UBjLbI

Snap Circuits SC-300: Ages 8 and up. Not exactly a game but an individual or group activity. Kids can build a doorbell, a burglar alarm and more. This activity has won many prestigious awards. This is not just for boys, girls would enjoy working with circuits too! Kids can learn how transistors and capacitors function, how to make time-delay circuits and how oscillators and photo sensors work. Over 300 projects. Don't forget the batteries, takes 4 "AA", not included. Amazon link: http://amzn.to/OxZtTL

No Stress Chess: Age 7 and up. Chess is one of the most intellectual games there is, every child can benefit from learning this game. Here is a great way to learn. From the Manufacturer: "Unlike any other Chess teacher, No Stress Chess teaches you how to play using illustrated cards and an illustrated 2-sided board." This chess set version is good for those who do not already know how to play chess, it teaches chess truly in a "No Stress" fashion. Then when ready, the board can be reversed to a traditional chess set. Amazon link: http://amzn.to/QthAW6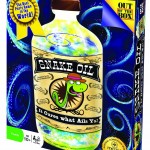 Snake Oil: Ages: 13 and up. Four to nine players. Adolescents and teens love to play this hilarious award winning game. From the manufacturer: "What does a Pirate really need in life? A Beard Glove? A Secret TV? Monkey Soap? or perhaps a Bone Tattoo? It's up to you to throw something together and pitch your invention to a Pirate or another crazy, fun role such as a Frat Boy, Billionaire, or Superhero! Out of the Box's new game Snake Oil is guaranteed to make you laugh!" We love the creativity this game sparks and we also appreciate how it helps develop the skill of persuasion. Amazon link: http://amzn.to/PEpkoL

Qwirkle: Ages 6 to adult. Two or four players. This game has won several awards, including the Mensa National Competition Award and Parent's Golden Choice Award. Qwirkle plays like Scrabble but without letters, it's a game of matching attributes and allows for strategy. This is a great family game that even non-readers can play. As teachers we gave our younger students half the tiles so the game would hold their attention without lasting the typical 45 minutes. Amazon link: http://amzn.to/PhQeBo

Teaching Talking Cash Register: Ages 3 to 9. This is more of a toy than a game but it is still quite educational and fun. This register has won many awards and has excellent reviews from parents who say not only did it keep their young child entertained; this toy is also a great teacher. According to the manufacturer, the cash register, "Rewards transactions with lights, sounds and voice messages. holds actual-size money and includes play coins and bills, coupon and credit card, features a built-in scanner, scale and coin slot, and helps children practice coin recognition, addition, subtraction and place value with 4 engaging games." Auto shutoff. Uses three C batteries (not included). Amazon link: http://amzn.to/QthKwP

Rory's Story Cubes: Ages 8 and up. One or more players. From the manufacturer: "…for inspiring creative thinking and problem solving in all of us. Simply toss all the dice, examine each of the nine face-up images and let them guide your imagination through a story that begins with "Once upon a time…" As educators we found these dice are good for not only creative fun but also for helping children with language skills.
Amazon link: http://amzn.to/OxZGGg

KEVA Contraptions 200 Plank Set: Ages 7 and up. Learn the basic principles of physics and engineering with this fun building set. Comes in several sizes and price points. From the manufacturer: "Build structures by simply stacking the planks. No glue, no connectors. They can be stacked upright which looks like it would be unstable as a house of cards, but even this type of structure is surprisingly stable." This particular kit is for building ball track structures. Note: This toy requires patience. Amazon link: http://amzn.to/PKn1R0

Set: Ages 6 to adult. One or more players. The object of this award winning game is to identify "sets" of three cards. No, this is not a matching game, but rather great for teaching higher level thinking skills using visual perception and deduction. Each card is unique in its four features; color, symbol, shading, and number. A "set" consists of three cards on which each individual feature is either the same on all of the cards, or different on all of the cards. It's trickier than it sounds but a real favorite with kids of all ages. Amazon link: http://amzn.to/TXGZOp

Smart Mouth: Ages: 8 and up. Two players or teams. Many of our students loved this fast-paced word game. Players shout out a word of at least five letters, beginning with the first letter tile –orange and ending with the second letter tile –green. For younger kids, we let them create words with only four letters, or the child who came up with the longest word first got the tiles. So, for example, "sandwich" would beat "sash". Amazon link: http://amzn.to/SrScA5

Scrambled States Game:  Ages: 8 and up. I once had a new student from Canada who said it seemed she knew more about America than US students. This game is a great way to ensure your child is familiar with their own country. From the manufacturer: "Quick! Find a state that ends with the letter A. Now find one that borders Tennessee. Have fun learning about the United States in this madcap game of observation and quick reflexes." Amazon link: http://amzn.to/SXgjXm
All of these thinking games may be purchased on Amazon.com. Happy shopping!