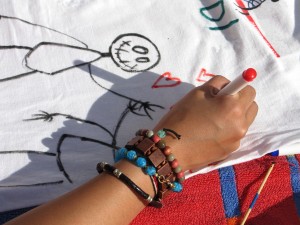 Organizing School Papers and Art Projects: Part of building a child's self-esteem and encouraging their best effort is the parent demonstrating that schoolwork is valuable. Discussing the work when it is first brought home and displaying special successes on the refrigerator or a special bulletin board are all involved in promoting scholastic progress.  How you save those special, valuable papers can also teach your child how you value their work.
Now is a good time to organize your child's projects and school papers from the past year. You can supplement the experience by enlisting your child's assistance since many parents struggle with what to keep and what to pitch.
Organizational Ideas:
First, buy clear plastic tubs for storage. Buying the same brand will assure you can stack them as needed.
Keep a tub for each child, this will allow you to easily toss in any work, notebooks, files, or three-dimensional items you want to keep, you can organize later or as you go. Purchasing a see-through container will help you to know what the tub contains. However, you may also want to label the front of the tub, such as, tape one of your child's 5×7 school photos to the inside front of the tub for easy identification.
Next, use three ring binders, with clear plastic sleeves, rather than files or boxes whenever possible. You will find that you and your child are much more likely to flip through old keepsakes in this manner, rather than look through piles of hidden work.
Create an art notebook for each child: Designate a large three ring binder and clear plastic sleeves to store you child's drawings. Beginning around age three, your child will create masterpieces you'll want to keep. If you already have a notebook designated for their artwork, it will make it much easier to slide your favorite drawing into one of the plastic sleeves. Notebooks which have a clear sleeve on the cover are nice for choosing a favorite art piece as the cover. Tip: Don't forget to date the picture at the bottom and write your child's name.
What to do with three-dimensional art projects: It is difficult for parents to throw away anything their child creates, however, sometimes there just isn't enough room for all their creations. One idea is to take a digital photograph of their art project, so you can pitch the project with reduced guilt. If you wish, you could have your child in the photograph, holding their creation.
What to do with schoolwork: Once again, using a large binder to store these papers will work best. As a teacher, I know parents run the gamut from not keeping any school papers to keeping the practice pages for cursive writing (isn't that cute how she traced the letter K?). My advice on this is, if the paper does not exhibit anything original from your child, pitch it. So, creative writing pieces, keep. Crossword puzzles and math worksheets, pitch. Some teachers give five to ten worksheets a day, if you do the math, you'll see keeping all of these is not feasible. Of course you will need to keep schoolwork in a folder or bin until their grades are finalized for the week or term but better to deal with them regularly, rather than waiting until you have a thousand at the end of the year.
Designate a place for all progress reports and test results: Some parents mix these reports with school papers from the year, however, giving these important papers their own notebook is more convenient for evaluating your child's progress and retrieving past test scores. Again, this could be a notebook either with sleeves, or hole punched pages in order to flip through for future reference, or you may prefer a folder with pockets, or a decorative box.
The old adage, "A place for everything and everything in its place" is true if you want to be organized while keeping the effort to a minimum. Choose from these tips what works best for you, and by the time your child moves into adulthood, you will not only have demonstrated your pride in his achievements and good organizational skills, but you will have their childhood conveniently stored for posterity.