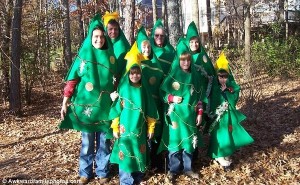 How to Identify and Eliminate Sources of Holiday Stress :  A teenager was watching her mother prepare a roast for their holiday dinner. The mother first cut off each end of the roast. "Why?" asked the inquisitive daughter. The mother explained that the best tasting roast always has the ends sliced off first before cooking.
The daughter challenged why cutting the ends off made the roast taste better. The exasperated mother replied, "Grandma taught me to do it that way, and everyone has always thought your grandma made the best roast ever. Maybe she can tell you why."
Later when the grandmother came over for dinner, the teen asked her why cutting the ends off the roast made it taste better. The grandma said, "Honey, cutting off the ends of the roast doesn't make the roast better, I cut the ends off because I didn't have a pan big enough to cook a whole roast!"
There are many traditions we spend time implementing during the holidays that at one time had a reason, and even though the reason may have passed, the habit remains. Some habits we keep are steeped in tradition and are therefore repeated. Other habits may be worth examining and eliminated because they no longer serve a purpose and add to holiday stress.
This year Thanksgiving falls on the 28th leaving minimum time between Thanksgiving and Christmas. Also adding holiday stress for some, Hanukkah and Thanksgiving are on the same day. This holiday season the greatest gift you can give your family is time. But where will you find that precious, elusive time that seems to be swallowed up like holiday cookies?
For some, holiday traditions are all about the decorating, for others it may be holiday cooking, or shopping for that perfect gift. However, there are other traditions which take much of your time and are not appreciated to the degree of what it costs you in preparing. Such as dressing your family up in matching sweaters so you can send out 40 holiday cards. Your friends and family already know what you look like, they see you every day on Facebook. Perhaps it is time to re-evaluate your family traditions and retire the time-eaters no one values enough for you to put forth the effort.
Decide where to best use your time, so you can still get into the holiday spirit, without letting the season turn you into the Grinch, no one wants to be one eggnog away from a holiday meltdown. Whatever your family's traditions, now is a good time to re-evaluate and discuss the priorities with your family. Then you can polish off the Menorah and unbox those ornaments…because it's time to get into the spirit!